I am very in to Kate Hudson. It's her birthday today and also mine, so in honor of what should be a nationally recognized holiday, I'm going to tell you all about the product that Kate has said she's "obsessed" with. Maybe this is a shameless attempt for the maker of the product, a dude named Dominic Banks, to send me one–IDK. I'm never against drawing similarities between the Kate and myself (those abs tho), so yes, this could be one more thing she and I have in common. Also, summer is coming. Just sayin', Dom.
Back in October she Instagrammed a pic of herself using the "Booty Belt," a lower body fitness device that you wear around your waist and then hook around your feet to cause resistance.
According to Dom (we're on nickname basis now), this gives his clients that "perky" butt they're after. If Kate's is any indication, I'd say mission accomplished, dude.
FYI, after Kate posted the pic, he sold 200 Booty Belts in 24 hours. The power of K. Huds!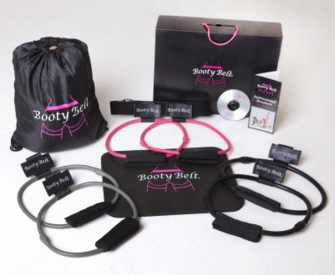 Get it: The Booty Belt System ($99.99)
The Belt has also appeared on the Today Show, where Bobbie Thomas called it "the new tight master."
K, Dominic–the balls in your court.