Beauty Boxes are definitely having a moment, and we can totally understand why. They allow shoppers to sample a ton of travel-sized beauty products before they commit to buying them. Seems like a no brainer to me. But since there are so many beauty box brands out there now, it may be hard to choose, and thanks to Net-A-Porter, your choice just got a little bit harder.
Today, the retailer launched their new Net-A-Porter Summer Kit ($75), which comes equipped with a selection of the site's "must-have" products. (aka. you get to sample Net-A-Porter's best beauty products). But what sets this box apart from the rest is that these products are luxury. You won't be recieving drugstore products in this box, all of the products are designger. So, if you have an expensive taste, I suggest you head over to Net-A-Porter and order yourself a box. Your excuse can be that it's Friday and you need travel-sized products for your weekend getaway…not that you really need an excuse anyway.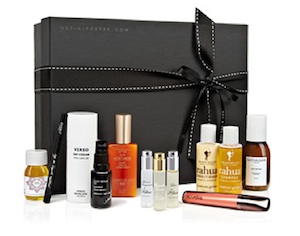 Net-A-Porter Summer Kit ($75)
GET A NET-A-PORTER SUMMER KIT NOW! 
And don't forget to check out: Net-A-Porter 70% off sale, Amazon's smartphone, and Lupita Nyong'o's Mara Hoffman dress.