We've tipped you off to wedding sample sales and even wedding rental sites, and now comes another extremely helpful tool when it comes to finding great wedding deals: DressRush.com.  The new site offers current and seasonal couture wedding dresses, veils, bridesmaid dresses, accessories, decor, and more, up to 70% off of retail pricing – a virtual dream come true.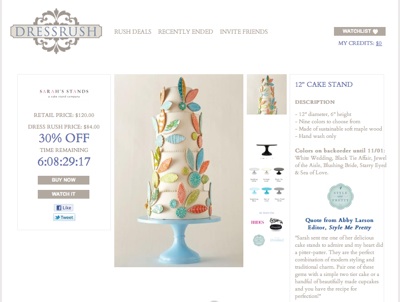 Today's sale: Sarah's Stands cake stands.
Catch brands like Tejani, Navy and Lavender, Adorn Bridal, an US Airways, on the site. Sign up this week and snag a chic cake stand from Sarah's Stands at 30% off.
Shop our guides to inexpensive wedding dresses, off white wedding dresses, and plum bridesmaid dresses now.