If you've ever wished you could you buy an item featured on SHEfinds without having to be redirected to the retailer's website, here's some good news: now you can!
Thanks to our new partnership with BringHub, we are happy to announce that you can now purchase select items without ever having to leave our site. It's super easy–here's how it works:
1. Click a link to buy any product featured on SHEfinds.
2. Your shopping cart with slide out from the right.
3. Select your size and/or color when applicable, then click Add To Cart.
4. Click the Close tab to continue shopping on SHEfinds or click checkout to complete your order.
5. Once your order is complete, you'll get an email from us with your confirmation number.
Now obviously the on-site shopping cart is amazing for many reasons, but we're especially stoked that you can shop multiple retailers all at once. Sadly, all products won't activate the cart just yet, but here's the list of retailers that are on-board with our shopping cart. Any time you click a link to one of the following sites you'll have the option to purchase it right from SHEfinds.com.
Now before you even ask, our shopping cart is 100% secure. You can shop with confidence that your credit card information is safe and that all your items will make it to your shipping address safe and sound.
Don't want to use the cart because you're old school? That's cool, too. Once the cart slides out from the right, just click the up arrow, then click on the retailers logo. Scroll down and you'll see a link that says Visit Store, which will direct you to the retailer the old-fashioned way.
Questions? Comments? Feedback? Hit us up at [email protected] We want to know if you love this new feature as much as we do.
In the meantime, here are some suggestions to add to you SHEfinds shopping cart stat:
Sam Edelman Paige Fringe Ankle Booties ($169.95)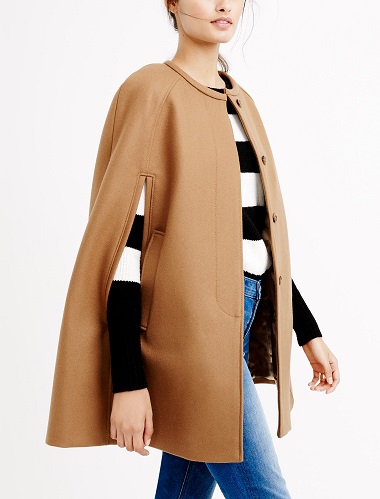 J. Crew Cape Jacket ($250)
Hinge Button Front Denim Skirt ($68)