While the talk of the town might currently be Rebecca Minkoff facing fines for her messy Manhattan office, we've already moved on to something way more interesting. Like the Instagram photo we just found on her profile, spotlighting three Rebecca Minkoff-branded polish shades. The caption reads, "Time to vote! Which nail color would you wear this holiday season?," which had us thinking a polish line must be in store. It makes perfect sense, as she started out with handbags and has expanded over the years into clothing, jewelry and accessories. Why not beauty too? Plus, it's the trend these days for designers to launch beauty lines. Just take a look at  Marc Jacobs, Michael Kors, and Tory Burch.
And looks like we were right. Our insider source just confirmed that that these polishes are part of a "buy a Rebecca Minkoff bag, get a free polish" promo  taking place during the holidays.The nail polish comes in shades The Morning After (blue), Affair (red) and Lust (burgundy). And look how perfectly shade 'After' matches our dream bag below: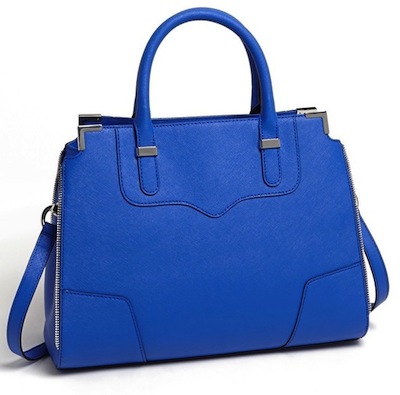 Rebecca Minkoff Amourous Satchel ($325)
The polish promo is currently only taking place on December 5th at the Saks Fifth Avenue Palm Beach Gardens, December 12th at the Saks Fifth Avenue San Antonio location and December 19th at the Bloomingdales 59th Street location in New York City. And their will even be fun Rebecca Minkoff manicure bars in-store. Consider yourself lucky if you live in one of these areas.
For more beauty fun, check out: MAC's Stroke of Midnight Collection, cult-favorite skincare products and Nails Inc.'s Fibre Optic collection.
[Photo via Instagram]