We get it, celebs have lots and lots of money and most of them love to splurge on clothing (can you blame them?). But when Reese Witherspoon wore this printed sweater in LA and we all rushed to find it and–womp, womp–the price was a bit steep. Her Jason Wu Snakeskin Baseball Sweater is a whopping $1,995, but is lined in silk and the front is real snakeskin so you shouldn't expect it to come cheap. Feeling like a splurge? Shop Reese's sweater below.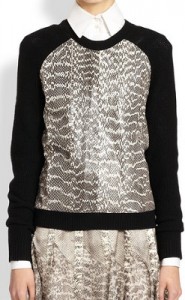 Jason Wu Snakeskin Baseball Sweater ($1,995)
Don't miss out on other great celeb styles (some are even affordable!) like Rihanna's sexy black bikini, Jessica Alba's fedora, Kim Kardashian's over-the-knee boots, and SJP's hooded leather jacket.
[Photo: Splash News]