First Taylor Swift wore this pretty powder blue topper, then she rocked this super snuggly ASOS Cocoon Coat and just this week she was snapped wearing yet another coat from ASOS. This time she chose this just-as-amazing ASOS Duster Coat in Textured Wool ($166). Is ASOS paying the queen of New York to model their jackets or did they just get very lucky? We love it when our super stylish celeb friends find clothes that don't make our bank accounts sweat. ASOS coats are affordable, trendy, and cute which makes this long winter seem a little more bearable. This longer style will keep your bum warm on cold seats and the soft, pale color will carry you through March. Grab the duster coat below!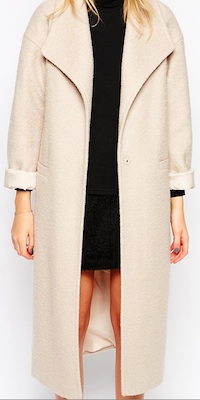 ASOS Duster Coat in Textured Wool ($166)
Shop more great celebrity style, like Reese Witherspoon's workout gear, Beyonce's sunglasses, and Margot Robbie's leather leggings.
[Photo: Splash News]