You know Kim Kardashian, right? The special snowflake who will soon have her very own published book of selfies and is also the poster child for contouring? Well, ever since she posted that one photo to Instagram, I've been intrigued by the idea of contouring. It seemed like such an effective way to look skinnier in pictures without changing the way I stand or trying to lose weight–and I've never seen a beauty trend that I didn't feel the need to master. So, in my naivety, I set out to teach myself. And let me tell you, the struggle has been so real.
I honestly didn't think it would be so difficult for me to master contouring. Not to toot my own horn here, but I'm pretty handy with makeup, and I basically live for Pinterest and YouTube tutorials. On top of that, I have a square face shape, and I was once told that I have a very pronounced jawline. I'm still not sure if that was meant to be an insult, compliment, or just an observation, but it's definitely true. Since contouring is all about giving your face a sharper, more angular appearance, I thought that my naturally angular features would somehow work in my favor and that teaching myself how to contour would be a breeze. Alas, I was wrong, and what I thought would be a fun experiment with a new makeup technique became a years-long ordeal.
I discovered that there were several issues that I needed to tackle before I could even consider proper technique. First, I needed to find the right products. I'm just going to be honest: the process was a complete nightmare. I knew which products I wanted, but they were by Benefit and NARS, which is hilariously out of my price range. So, I began the tedious process of hunting through drugstores and lower-priced specialty brands. I started with highlighters. After a few weeks of test runs, I settled on two that I now interchange depending on my mood: e.l.f. Cosmetics Shimmering Facial Whip in Lilac Petal (it's only $1!) and a champagne highlighting shade from my LORAC Cosmetics The Stylist Palette, which, unfortunately, has been discontinued since I purchased it a few Cyber Mondays ago.
But that was just the highlighter. My real struggle was with bronzer. I have really pale skin, so finding a bronzer that both agreed with my budget and didn't make me look like I'd slapped a pumpkin on my head or spontaneously turned into Snooki was difficult. I was fortunate enough to have an internship a few months out of college during which I was tasked with a product review of Too Faced Cosmetics' Soleil Matte Bronzer. Talk about #workperks. The Light/Medium shade is perfect for my skin tone, and the matte finish doesn't make me feel like a character from Twilight. Mission Acquire Products: Accomplished.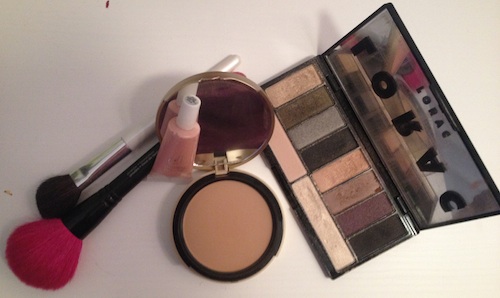 At long last, I reached my final struggle: The actual contouring process. From watching several videos, I'd already determined that I could get away with using my normal blush brush, or even an angled bronzing brush if I was feeling fancy (I'm usually not). From there it was a matter of patience, practice and going out in public for a really long time looking straight-up bad. Of course, I didn't know just how bad I looked, because no one told me and I was too proud to not go out with my makeup on after I'd spent all that time applying it. I tried using Kim's Instagram pic for inspiration, but whenever I did, I always felt like I could barely move my face from wearing so much product. It's a lot of makeup, you know. (Please read that previous sentence like the woman in Love, Actually who, when referring to the Christmas octopus costume at the end of the movie, said to Hugh Grant, "Eight's a lot of legs, David!")
But, you guys, it happened! A short three years after my journey began, I found the perfect combination of products, brush and technique. Here's what I do. First off, I start with a clean face (okay, a face with a little bit of undereye concealer. Hey, I'm only human):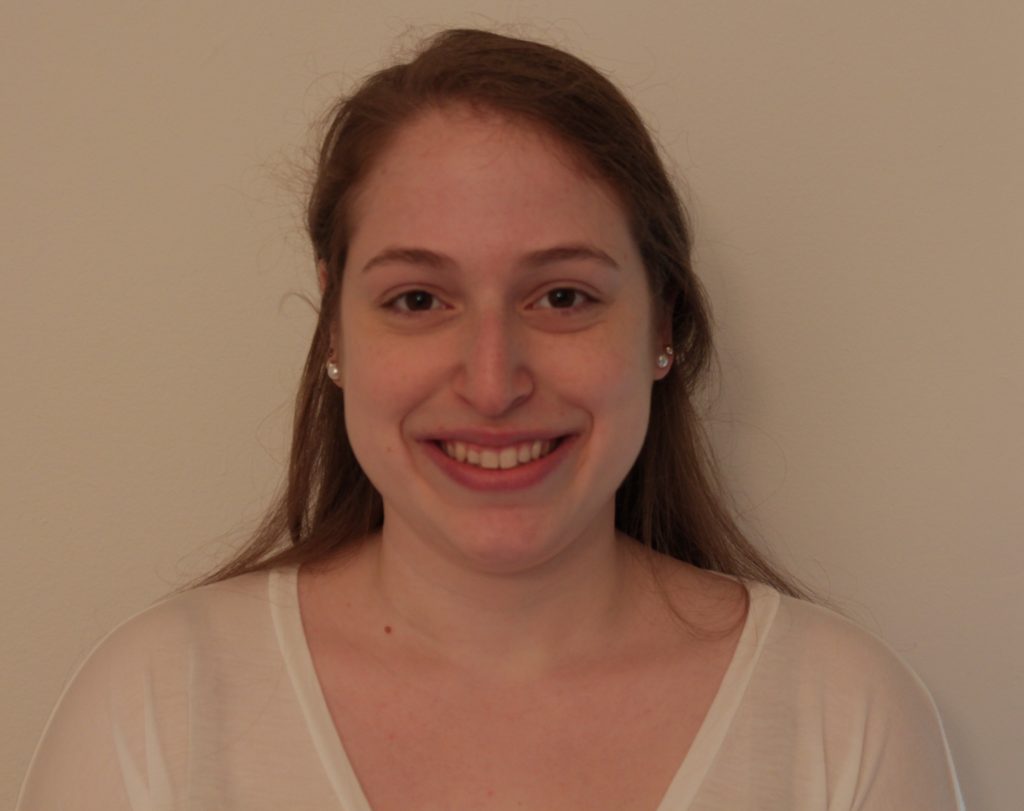 Then, I place the bronzer about an inch or so up from the corner of my mouth and blend up toward my hairline. Following the hairline, I blend the bronzer under my jawline and on my temples. From the side, it should look something like this: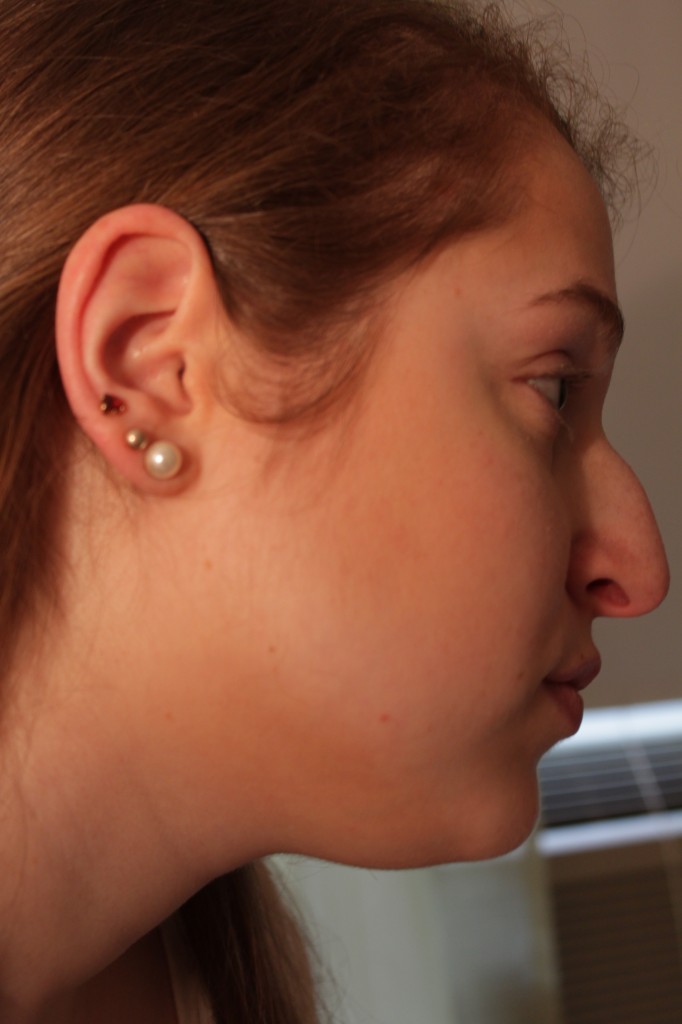 The harsher lines right now are fine; you can blend everything more thoroughly at the end. The highlighter goes on all the high points of my face: forehead, nose, Cupid's bow, cheekbones, and under the arch of my eyebrows, like so:
Once you have your highlight placed, blend everything away! Here's the finished product: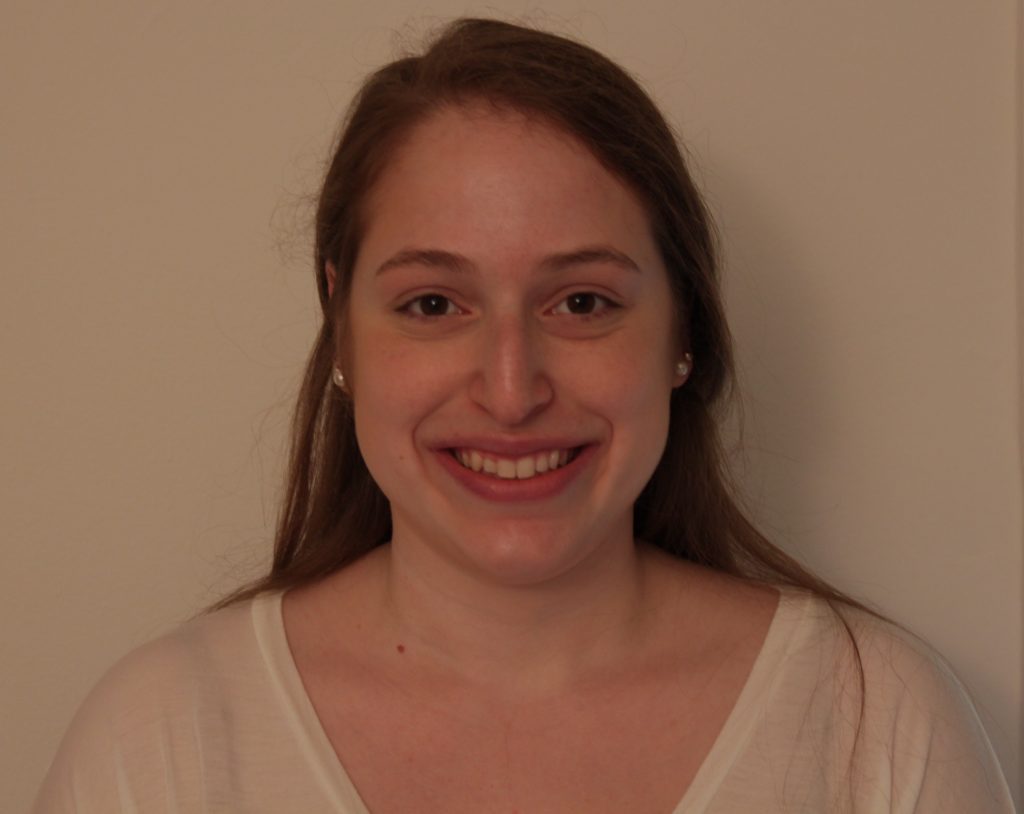 The different here is notably subtle compared to other contouring tutorials you may see, mostly because of the products I used. A powder bronzer is much lighter, and feels more natural. Overall, the face should look slightly more angular around the cheekbones, the bronzer on the temples gives the appearance of a somewhat narrower forehead, and the highlight brings the light to all of the natural high points of your face. With a little practice, you could easily do this every day!
I may not look like Kim Kardashian, but then again, I don't have a professional makeup artist hiding under my bed. So, if you're trying to learn how to contour and you see no end in sight, take it from me: You'll get there. If I can do it, you can do it, so stay strong and don't give up. Pro tip: practice when you don't think you're going to have to see anyone anytime soon. I wish I'd thought of that before.
For more beauty advice, check out: why you need to clean your makeup brushes, how to care for thin hair and how to minimize your pores.
[Photo: Instagram/Sarah Steinhorn]