Unfortunately, Kim Kardashian's Givenchy wedding dress and her Balmain reception dress are not for sale, but we did find the "Just Married" leather jacket that she slipped on after the wedding festivities. We first saw the couple's matching leather jackets when the Kim and Kanye snapped a picture together in their wedding photobooth, but we just assumed that the jackets were custom made like everything else Kim wore during her time in Europe. But, lucky for you, we were wrong.
The reality star simply purchased the jacket like a normal person (shocker!) and hired artist, Wes Lang to add the bird image and text. The BLK DNM Leather Jacket 1 is available for $895 on Shopbop, which is definitely a steal compared to the rest of the outftis Kim wore on her wedding trip. Now you can dress just like Kim K, and you don't even have to get married.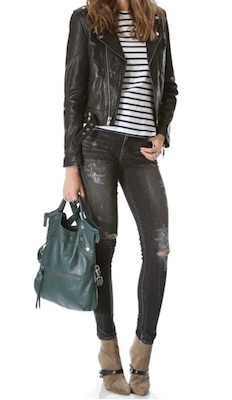 BNK DNM Leather Jacket 1 ($895)
For more celeb style, check out:  Sarah Jessica Parker's dress, Taylor Swift's romper, and Jessica Simpson's Mara Hoffman swimsuit.
[Photo: Instagram]