Not feeling very optimistic about getting it right for Mother's Day this year? Relax! We sat down with another one of our favorite mom bloggers to get the 411 on what moms really want. Meet Alicia Harper, the creator and writer behind mommydelicious.com.
SHEfinds: Tell us a little about your blog.

Alicia Harper: On Mommy Delicious, I write candidly about the trials and triumphs of being a young, single mother, living, growing and dating in N.Y.C.
SF: What's your fondest Mother's Day memory?

AH: One of the best Mother's Days that I've experienced was when I went to brunch with a friend and my son, Aiden. Aiden had unlimited orange juice and pancakes, and I had unlimited mimosas and French toast. Afterwards, we headed to Prospect Park. I couldn't have asked for a more pleasant afternoon.
SF: What's on your Mother's Day wish list?

AH: A massage! I work on the leadership team of an elementary school and we have been working non-stop in order to prepare our students for state tests. I'd love to have a spa day where I'd get a facial, mani/pedi and massage, and then maybe some time to do a little shopping.
SF: What would be your dream Mother's day?

AH: I would LOVE to have a cleaning person for the day–or week.
SF: What do you love most about being a mom?

AH: I got pregnant within a year of finishing college–before I had the opportunity to accomplish many of the things I wanted to do before having children. So I went to graduate school, began my career as an educator, traveled and experienced New York all as a young, single mother. Aiden went to class with me on days that I couldn't get a sitter (or whenever my sitter was unavailable). Nowadays, he goes to work with me every once in a while, travels with me and experiences all of N.Y.C. with me. We're growing–together. And it's the most amazing feeling!
As a symbol of all the love Alicia has for her son, we couldn't think of a more fitting Mother's Day gift than this Lab Created Sapphire Heart Sterling Silver Pendant from Sears. The precious blue stones serve to represent her baby boy.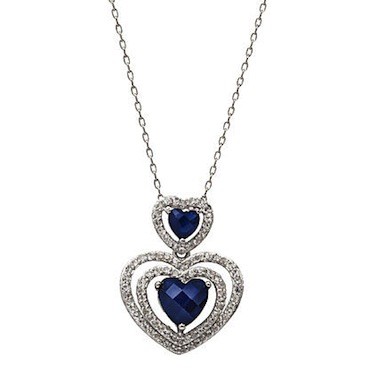 Lab Created Sapphire Heart Pendant Sterling Silver
This stunning necklace aside, Sears has so many options to show your love for mom this Mother's Day. And with ecoupons to use in the store or at sears.com, you can find the perfect gift at a price that won't empty your pockets. Plus, Shop Your Way members save even more and can find custom ecoupons just for them at shopyourway.com. This Sunday, May 4, you can also save an extra 5-25 percent during the Family and Friends sale from 6-9 p.m.
Don't wait until the last minute to buy something she would hate. Visit Sears or sears.com now to make a lasting impression this Mother's Day.