I went to Japan in high school, and I thought it'd be a great idea to get my ears pierced, because Japan is so clean and hygienic.  To my dismay, all my gesticulating and not-even-rudimentary Japanese got me were directions to various do-it-yourself ear piercing devices, which basically look like square hole punchers.  Yikes.
However, this video really outdoes the hole-punchers in terms of DIY beauty.  The women featured are discussing various templates for shaping one's own hair…down there.  They've got the basic shapes you're used to from your waxer and some funnier stuff, like an elongated heart, and what I think is supposed to resemble a guitar. Would you ever try these stencils out on yourself?  Do tell.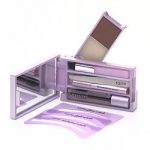 If you're brave enough to try this funny version of body art, we'd recommend a good at-home waxing kit, like Bliss Poetic Waxing.  And for ladies looking to shape their hair themselves, albeit somewhere else, we love Tarte's Brow Know-How kit, which comes with everything you need, including stencils, to create your own perfect arches.
Take a look at more of the best hair removal products (of all kinds), as well as some great celebrity hairstyles and dry hair repair for an updated coif.