Today on Better.tv, we're on a mission to prove that recycled accessories are just as cool, stylish and useful as anything that's made from new materials – and it's usually a whole lot better for the environment, too.
Below are seven of our favorite recycled finds – and we're giving a lucky reader every single one. To enter, sign up for our newsletter then comment below about what you're doing to go green.
1. Harvey's Treecycle Handbag, $148

Made from: Recycled seatbelts

These cute shoulder bags are lined in hemp, and printed with eco-friendly ink, so the whole operation is eco-conscious.
2. Lela Designs Tops, $68-$74 (we're giving away a $200 gift certificate to the site)

Made from: PET, a fabric derived from recycled plastic soda bottles

The good thing about PET is that – something like a plastic bottle – it's lightweight and durable, so the fabric is ideal for activewear. Unlike a plastic bottle, though, you can fashion it into pink ruffles and collared polo shirts – great for golf, or just for doing errands.
3. Trash to Trendy Platinum Clutch, $85

Made from: Recycled dry-cleaner bags

This bag is just the right size to carry all your night-out essentials and still fit comfortably under your arm. And the dry-cleaner-bag bit is a great conversation-starter at a crowded party.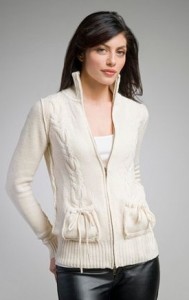 4. White + Warren Remix Bomber Jacket, $165

Made from: Cotton that's spun from old T-shirts

This  jacket isn't even dyed  – the color comes from the old tees themselves. Plus, it's a more-interesting alternative to your everyday cardigan for fall or early spring.
5. Telephone Wire Bangle Bracelet, $25

Made from: Recycled telephone wire

These South African-made bracelets are so eco-cool, Diane von Furstenberg sent the down the runway at her show last spring. Wear one alone, or stack a couple for an even stronger statement.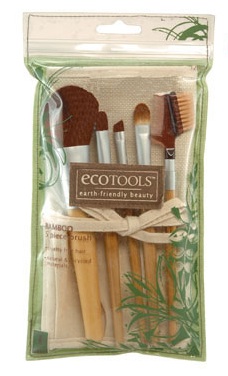 6. ecoTOOLS 5-Piece Brush Set, $16.99

Made from: Recycled aluminum tubes

At under $4 per brush, these are a pretty good bargain for a full face worth of makeup tools – and sustainable: the handles are made from renewable bamboo.
7. Nahui Ollin Headband, $18

Made from: Recycled candy bar wrappers

These bright headbands come in tons of different designs (depending on the sort of wrapper that's used, of course), and have a stretchy band at the back to counteract the wrapper-y stiffness.
Want to win everything you see above? Tell us how you're going green (or trying to) below.
1. Post a comment below about what you're doing to go green.

2. You must supply us with a valid email address and sign up for the SheFinds newsletter.

3. The contest starts now and entries must be date stamped by our server no later than Wednesday, February 17th at 11:59 AM Eastern Time to be eligible.

4. One winner will be selected during a random drawing. The winner will be contacted and must reply via email as instructed in the newsletter to claim the prize.

5. No prize substitutions.

6. You must be 18 years old or older to enter and a resident of the USA. Residents of the state of Florida are not eligible to enter; entries from the state of Florida are void.

7. No purchase necessary.

8. Void where prohibited.

9. Click click here for the full rules.