I have wanted a Clarisonic cleansing brush since its debut but I never wanted to spend the money on it. My skin isn't horrible, but it's not completely blemish-free. I finally got a Clarisonic and it's one of the best products I own. I've been using it for about five months now and I can honestly say I see and feel a difference in my skin.
Here's what I love about my Clarisonic Mia2 Skin Cleansing System ($149): it has a 60-second timer that allows me to wash my face for the appropriate amount of time. Plus, the brush vibrates when I need to move on to another part of my face. There are two speeds to customize your cleanse, but I prefer the higher speed. You can also use pretty much any cleanser with it!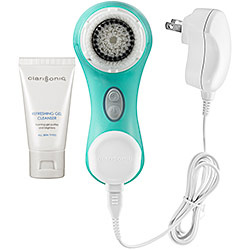 Clarisonic Mia2 Skin Cleansing System ($149)
After five months of using a Clarisonic, my skin has become a lot smoother and I feel like my breakouts are less frequent. My pores are cleared out, especially around my nose where I'm prone to getting blackheads. After washing my face with this cleansing brush, my skin feels so clean and refreshed. It's almost like I have a natural glow. It's also the best feeling to take off all my makeup in one minute and not have to worry about getting all the dirt and oil off.
Although Clarisonic brushes cost a lot of money, I highly recommend this product to anyone who wants to take care of their skin. It's seriously worth every penny and the results aren't too bad either!
Don't miss the right way to clean underneath your nails and enter to win a free BeautyFix box from Dermstore!
[Photo: Sephora]