There's nothing I love more than a small makeup collection that takes care of your whole your look. So, when Jane Iredale invited me to try out their new Country Weekend collection, there was no way I was going to turn them down. Launching today, the collection includes three new products: the Limited Edition Getaway Eye Shadow Kit ($58), the Just Kissed Lip and Cheek Stain in Forever Peach ($25) and the Jelly Jar Gel Eyeliner in Espresso ($28). Just like all of Jane Iredale's makeup, the products are totally natural, so they look just as good as they actually are for you! Let's just get right to the makeup since, really, it speaks for itself:

First up, we have the eye shadow palette:
The palette itself is a sleek, shiny rose gold, so I was in love before I even opened it. Inside, there are five different eye shadows. From left to right, they are: "Fresh Air," a pearl shade that you can use as a color-enhancing base or as a highlighter; "Silence," a shimmer-finish golden peach; "Footprints," a matte green-grey; "Tea on the Porch," a shimmer-finish coppery gold that, surprisingly, works on both warm and cool skin tones (I tried it on my fair skin and my roommate tried it on her olive skin–trust me, it's great); and, finally, "Starry Night," a shimmer-finish black.
The color payout and staying power on these shadows is absolutely amazing. They don't crease or smudge (unless you want them to), and the shimmer finish isn't too heavy or any of the colors. I've already gotten three different looks out of this one palette, too. On a normal day, I just use Fresh Air and Silence on my eyelids (yes, I know I sound like a hippie) with liquid eyeliner and mascara, and since I'm so fair, the colors are perfect. When I'm looking for something a little more noticeable, I use Fresh Air and Silence as a base, apply Footprints to my crease, and use Tea on the Porch on the outer corners of my eyes for some shine. And, finally, on nights out, Starry Night is the perfect smokey eye color. It's a pricer palette, for sure, but it'll replace all of your other eye shadow, easy.
Now, on to the lip and cheek stain!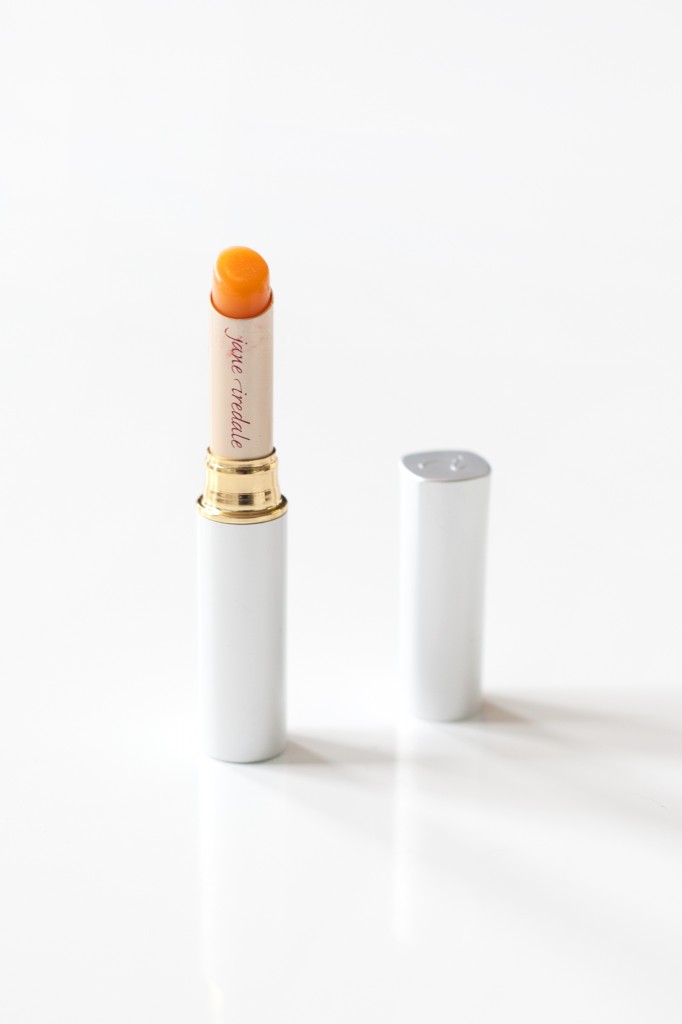 This is an old Jane Iredale fan favorite–the product already exists in the shade Forever Pink, but now it's peach cousin has arrived, and it's so much fun. I'm a huge fan of any product that does double duty like this (I've been using Benefit Cosmetics Benetint for three years now), but Jane Iredale's is so unexpectedly great. The formula actually adjusts to individual skin tones, so it looks different on everyone! I was skeptical at first, because the last time I was told that something would adjust to an individual's skin tone, I ended up with a handful of faulty mood rings. But I saw this in action, and guys, it really does look different on everyone, and it gives everyone an ideal peachy glow. The best part? It's made with olive butter, avocado butter, and wild rose wax, so not only does it moisturize your lips all day, it smells AMAZING. Like, remember how much you loved the smell of Lip Smackers? This is better.
And finally, we have the gel eyeliner:
Just like the lip and cheek stain, Jane Iredale's Jelly Jars have been around and praised for a long while, and Espresso is the newest color in the mix. I'm going to be honest here: I just don't use gel eyeliner that much. Once I jumped on the liquid liner bandwagon and figured out how to use it, I was pretty hooked. But guys, I'm OBSESSED with this color. As someone who uses black eye makeup more than is probably normal or healthy, I've been looking for a good neutral grey-brown for years with little success. But this little jar gives me everything I need. It has the color payoff and finish similar to a liquid, but the gel formula feels so much sleeker on my eyes, and the color is beautifully soft. I also kind of love that it's got a slight shimmer to it–I can wear it without any eyeshadow at all and still feel like I'm all done up.
And that's the collection! My biggest takeaway is how luxurious all of it felt. Normally, I'm a big proponent of drugstore brands, but this might just bring me over to the high-end side of things. I just love the way my whole face felt, and when I removed it, there was no clumping or dry skin that you sometimes get with frequent makeup use. Consensus: it's the bomb. Shop the collection here!
For more beauty, check out: NARS' temporary tattoos, 12 ways to control winter frizz and Lancome Artliner dupes for $15 or less
[Photos: Shelby Rodriguez]