Were you just as surprised as I was to see January Jones on the cover of the NYT Sunday Styles? The ice queen herself did little to squash her cold reputation as she gave the reporter a nonchalant handshake and proved to be a not-so-friendly interview subject.
The good news? You don't have to speak to January to copy her amazing style over the last few weeks. First there was this Sam & Lavi dress and her Coach sandals, then there was this printed Parker skirt and now we're obsessed with January's IRO Collarless Sequin Jacket ($925). Iro jackets are currently one of the hottest commodities in Hollywood, so you'd better jump on the trend now. hese things are hot and selling fast. Score January's jacket below.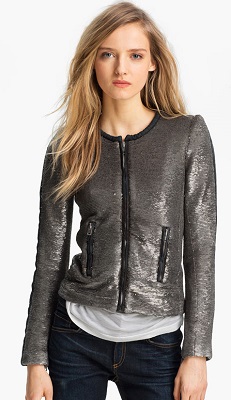 IRO Collarless Sequin Jacket ($925)
[Photo Credit: Splash News]
Shop more celebrity style worth splurging on like Khloe Kardashian's striped dress, plus Miranda Kerr's army jacket and LeAnn Rimes' star print sweater.