NYMag's The Cut blog caught up with J.Crew president Jenna Lyons outside Lincoln Center at New York Fashion Week wearing a denim top, skinny jeans, and a green quilted Chanel bag – a look that somehow stole our hearts, despite being otherwise known as a Cowboy Tuxedo (or Canadian Tuxedo).
Usually reserved for Jay Leno while "Jay-Walking," the head-to-toe denim looks shockingly chic on Jenna. It's no wonder HuffPostStyle Tweeted a pic, and other celebrities have tried it since:
Liv Tyler was then picture rocking a similar top and bottom jeans ensemble at the G-STAR RAW show. Surprisingly, the vest and jeans look is cool and flattering for fall. Try the look for yourself (suspenders optional):
Tuck this J.Crew Selvedge chambray shirt ($98) into a colorful skirt or wear it long over skinny jeans like Jenna. You're golden either way.
Get the look for under-$20 (take that, Jenna) with this Old Navy Western Chambray shirt ($19.99, down from $24.50).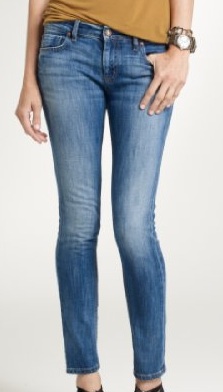 We're 99% sure these are the exact jeans Jenna wore to Fashion Week. These MiH Jeans® for J.Crew breathless skinny jeans ($233) have all the right fading and the skinny style is cropped enough to wear with heels, Christian Louboutin or otherwise.
Soon after Jenna was pictured with a quilted green Chanel purse, Rachel Zoe appeared at Lincoln Center with this oversized green Hermes Birkin bag – making green the "It" bag color for fall.
If you're not on a Chanel or Hermes budget, get the look for infinitely less, with this awesome B. Makowsky Crossbody bag ($128). Pair it with blue like Jenna Lyons and Rachel Zoe and the color will really pop.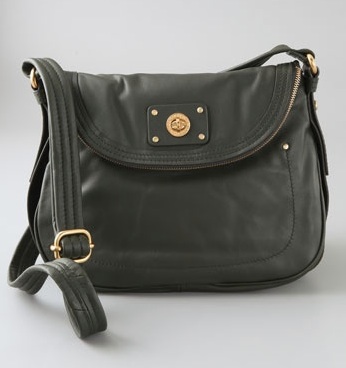 For a more everyday green, this Marc by Marc Jacobs Totally Turnlock Natasha Messenger bag ($328) is perfect. Sling it over a soft cashmere sweater or cardigan and skinny jeans for a pulled-together, Jenna-approved fall look.
If you're not a socialite or celeb like Jenna, but want to feel like one – a classy Tory Burch mini bag ($250) will do the trick. Wear it as an everyday bag with jeans or as a going-out clutch with a little black dress and booties.