We love Jessica Alba's style pretty much on the regular, but we love it even more when we can actually afford what she's wearing. And that's exactly why we're dipping our toe into the boyfriend/slouchy jean look because Jessica's Blank NYC The Galaxy in Flavor Savor are just $88. For real–they're less than $100. And if you spend any amount of time stalking celebrity denim (we do), you know that jeans under $100 are basically unheard. So hurry and treat yourself to a pair–or two!–before more celebs start snatching them up. Kourtney Kardashian also owns a pair, so it's not long before more stars follow suit.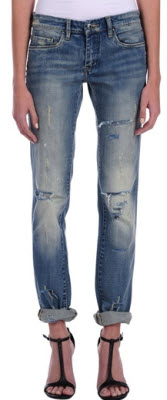 Blank NYC The Galaxy in Flavor Savor ($88)
Don't miss out on Miranda Kerr's biker jacket, Olivia Palermo's sweatshirt, Jamie Chung's biker boots, and Lady Gaga's bracelet.
[Photo: Splash News]