Poor Jessica Simpson looked like Don Johnson with no pants on at a Hawaii-themed party this weekend. Not only did Jessica wear a boxy, Garfield-orange tropical shirt for the occasion, but she omitted one important part of the look: pants. (Jada Pinkett Smith is a past offender.) Hey – at least she didn't go for one of those God awful maxi dresses.
What she did wrong:
I love theme parties, but for a Hawaiian/Luau themed one, I would have gone with a printed dress or grass skirt or something slightly more feminine than a men's Tommy Bahama button down.
Either she's wearing the world's shortest shorts, or she had a blond moment and just forgot them.
What she should have done:
Rather then a men's Hawaiian shirt, Jessica should have gone for a pretty floral dress like this Patterson J. Kincaid Erin Pleated dress ($128). You will love the bold color and pattern of this everyday summer dress.
Celebrity-favorite designer Yumi Kim makes awesome Hawaiian printed dresses and rompers, including this Yumi Kim Lolita dress ($193). The ruffled neckline and tie waist are infinitely more girly that a boxy tunic.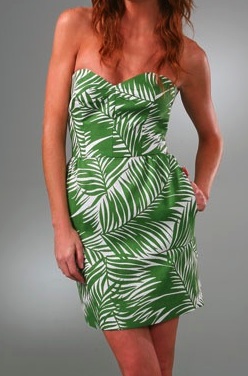 Go even more girly with this Milly Sweetheart Strapless dress ($224, down from $320). Throw on a lei and you're good to go.
For more celebrity style mistakes, check out our infamous red carpet re-do's, then head over to our guides for the best summer dresses, jeggings and little black dresses.