You know you have "bride brain" when all you can talk or think about is weddings. For Jessica Simpson, whose marrying former NFL player Eric Johnson very soon, it means expanding your retail empire: first, she revealed that she's designing her own wedding dress, and now comes news of a fine jewelry licensing deal for Zales.
Diamonds Are a Girl's Best Friend will hit Zales stores in October, and includes pendants, earrings, rings, bracelets and bangles in gold, silver, diamonds, or a combination of the three (priced $79 to $999) according to WWD.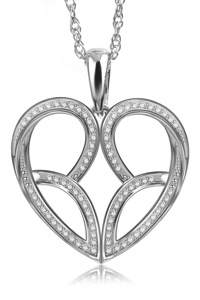 Theo Killion, Zale Corp.'s chief executive officer, had only nice think to say about J.Simps: "She is viewed as the girl next door, and our guest is a midmarket guest and we believe she is someone that they can identify with. She has great reach and great power across a number of different categories, so doing a diamond fashion collection made perfect sense."
Shop our guides to the best long bridesmaid dresses, satin wedding shoes, inexpensive wedding shoes.