Somewhere over the rainbow…we stumbled upon Jill Stuart's new pastel polish collection, and it's dreamy. Sure, we've seen lots of pastel polish collections in the past few months, but these come in fancy bottles with jewels on top. Leave it to Stuart to launch the prettiest polishes of all. I mean, she is a designer after all. While the promo pics show ice cream and sweets, the collection was actually inspired by an rainbow of popping colors as seen after a rain storm. Whatever the inspiration may be, we'll definitely be adding these to our collection as soon as they hit the states.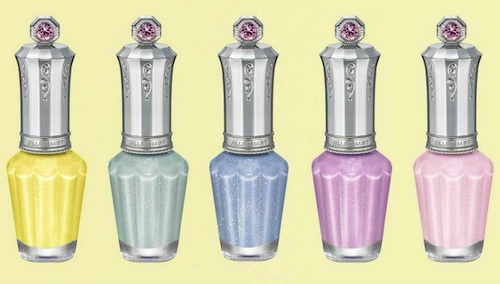 The Jill Stuart Skip Over The Rainbow Collection includes shades Hume & Tune (purple), Polka Dot Umbrella (lilac), Coltish Ship (turquoise), Rainbow Bridge Umbrella (baby blue) and Rain Boots (yellow), and launches June 7th in Japan. We also found the entire collex on eBay for $19.95, in the case you have no patience whatsoever.
For more beauty news, check out the Korres Festival Kit, Zooey Deschanel Nail Wraps and the best hairstyles for muggy weather now.