A job interview includes two different kinds of prep. The first one you probably already know how to do: research the company. Know your facts, company history and what YOU can bring to the table. While this is one side of getting ready for the big day, the second side of it is sometimes surprisingly more difficult— figuring out what to wear to a job interview.
Similar to preparing what you're going to to say in an interview, what you wear should also fit the part. When asking yourself what to wear to a job interview, you should make sure your outfit is an appropriate reflection of the company. Obviously what you would wear to an interview at a fashion magazine if very different from what you would wear to an interview at a law firm. However, there are definitely some office wear staples that never fail. We rounded up some of these key essentials for you to check out and shop below.
1) The classic blazer
For the conservative office: Regent Blazer With Satin Lapel ($228)
For the more casual/creative office: Chiffon-Fringe Blazer ($228)
While a blazer may seem obvious, it's an office staple. It's equivalent to a trench coat in the fall and winter; it's something that will never get old. The trick to finding a blazer that looks professional rather than trying to hard is all in the fit. The blazer should fit you just right. If you have a more creative job, try finding a blazer that's a little more eccentric. For a more conservative job, stick to a blazer that's in the neutrals family.
2) An A-line dress
For the conservative office: Bobeau Hidden Placket Tunic Shirtdress ($40.80, down from $68)
For the more casual/creative office: BCBGMAXAZRIA Genesa Color-Block A-Line Dress ($198)
You can never go wrong with an A-line dress. They're the one type of dress that flatters any body type. Once you find the right one, you can have fun with different prints, solids, fabrics and textures! If your blazer is simple, you can use the A-line dress as either a statement piece or you can use it as a blank canvas for the rest of your outfit.
3) Closed-toe pumps
For the conservative office: Clarks Gabriel Candy Black Patent Combi ($120)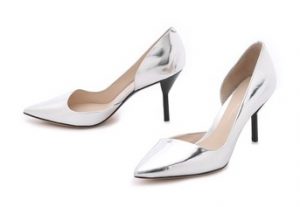 For the more casual/creative office: 3.1 Phillip Lim Martini Pumps ($395)
As much as they hurt, I always associate confidence with heels. It helps you literally stand a little taller, and body language during your interview really goes a long way. The trick to finding the most professional heels for a job interview is to keep them fairly low and the thicker the heel, the more comfortable they are.
4) Accessories
Valmarana Belt ($58)
Patricia Nash Athens Computer Bag ($299)
Michael Kors Chronograph Camille Tortoise And Gold Bracelet Watch ($221.25, down from $295)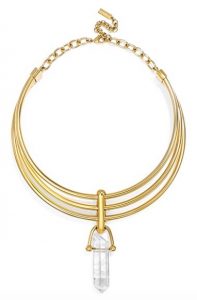 BaubleBar 'Occult' Quartz Collar Necklace ($68)
Accessories are always the best part of an outfit. Even in a conservative office, accessories can liven up your ensemble. Have fun with these! Think statement jewelry, watches, bags, belts, etc.
Don't forget to check out: These Actors Have Played Siblings And Couples On-Screen, VIDEO: Here's The Trailer For My Big Fat Greek Wedding 2 #Finally, and The Handbag Section At Saks Off 5th Is Unreal–Take Up To 60% Off
[Photo: Peace Love Shea]