Discover more than just fireworks this month with our July calendar, filled with exciting happenings.
July 1st: Britney Spears introduces her own clothing line, exclusively for Kohl's, filled with tons of jeans and trendy accessories.
July 1st: The Summer Etsy Showcase begins to highlight some of the best Etsy finds for the season.
July 1-3rd: The Vera Wang Trunk Show is happening at the Vera Wang Bridal House in New York City. If you're in the market for a wedding dress, check out these made by The Limited-you'll be pleasantly surprised.
July 1-4th: Enjoy 1/2 Price shipping from Topshop, including their sale items (which you'll love).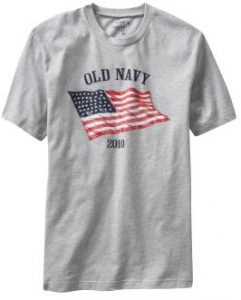 July 4th: Celebrate this sparkling holiday with the by wearing these cute patriotic clothes. And buy an Old Navy Logo Flag Tee ($5) this weekend. For each shirt purchased, one gets donated overseas.
July 8th: Grab the Jenny Holzer for Keds sneakers ($70-$75) only at Bloomingdales starting today. All proceeds from these artistic shoes go straight to the Whitney Museum of Art.
July 12-18th: Show your tribal spirit with exotic prints and cutting edge designs from African Fashion Week.
July 15th: Selena Gomez brings us her very own clothing and accessories collection for Kmart. Though they're targeted to teenagers, the layering tanks and shoulder bags are cute for work, too.
July 15th: Trina Turk debuts her 2011 Swimwear Mercedes Benz Fashion Week in Los Angeles, CA, just in case you needed a little something to look forward to.
July 17th: The controversial Abercrombie & Fitch Quarterly comes back into stores. Perfect timing to motivate us to head to the gym.
July 19th:  Angelina Jolie 's new movie, Salt, premieres tonight in L.A. Prepare yourselves for the star-studded event by checking out the best celebrity styles.
July 29th: Set your DVR: MTV's Jersey Shore Crew in Miami airs tonight. And keep an eye out for Mike "The Situation" Sorrentino's clothing line, NOXedge. Cross your fingers it's not as trashy as JWOW's line, Filthy Couture.
Stay up to date with our fashion news section. Shop our guides to the best nude shoes, oxford shoes, and the best cool sneakers. Sign up for the SheFinds newsletter for fashion tips and sales.