It's officially summer, and time for our monthly calendar. Get ready for incredible jewelry sales, sleek new sneakers, and a jolly Christmas in July.
July 1: Origins launches the Gloomaway Grapefruit Body Mist with corresponding gumballs, in case you're in a bad mood for the upcoming holiday and need something to chew on.
July 2: Get your Fourth of July weekend hosts a nice house gift during Red Envelope's Extra 10% Off sale.
July 1-6: Bestow Boutique takes 40% off everything for "Christmas in July." That's a way to prepare for Independence Day.
July 4: Happy 4th everyone! Save 25% on festive jewelry from Netaya with code July25.
July 9: Quit chopping up men's Hanes undershirts, and get yourself the Marlo- a pre-cropped tank that won't add another bunchy layer under low-cut summer dresses.
July 10: Perfective Ceuticals makes super-scientific anti-aging creams, and now they're 20% off. SheFinds readers get treated to an extra 10% off with code SheFinds.
July 12: Intuition designer Jaye Kersh will collaborate on an Intuition accessories line for Target, which launches today.
July 13: Stay oil-free this summer with Normaderm Pro Mat Ultramattifying Oil-Free Lotion, which has spf 15 and launches today. This way you can block UV rays without being the shiniest person at the beach.
July 15: Puma debuts the new Cell Votra sneaker, so you can work out extra-hard.
And speaking of shoes, Sea of Shoes blogger Jane Aldridge's line for Urban Outfitters debuts today, too.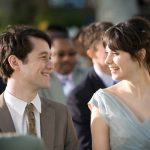 July 17: 500 Days of Summer premieres, and for the record, Summer is a character's name. This is a movie about heartbreak, not impending global warming.
July 20: The Survivor Necklace by Isabella Grace Jewelry becomes available, with 20% of proceeds donated to BreastCancer.org.
July 22: All sorts of new lavender items are available starting today from L'Occitane. Plus they're having a buy-two-get-one-free promotion.
July 24: The romantic comedy The Ugly Truth, starring Katherine Heigl, is in theaters today.
July 28: In case you're already sick of all your summer jewelry, check out the new beaded line launching on Pam Branch Designs today.