Earlier this year, we told you about Twilight star Nikki Reed's wedding plans, and here comes even bigger bridal news: Alfred Angelo will be creating a replica of Bella's Carolina Herrera wedding dress. The affordable look-alike
will be available online and in AA's Signature stores in November, shortly after the November 18th premiere of Breaking Dawn, Part One. See the official press release here.
We also got our mitts on this sneak peek photo of the wedding, which features Edward in a black tux with coat tails and a white bow-tie. The bridesmaids are wearing mauve/slate deep-V gowns with a wrap/tie waste: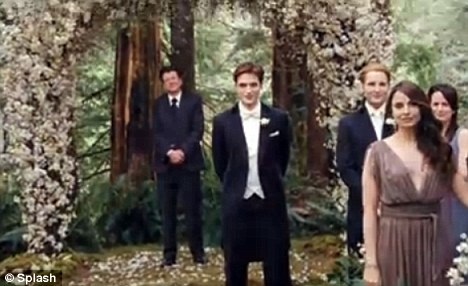 The dress resembles this TwoBirds slate bridesmaid dress, which is also convertible:
Love this dress? Shop TwoBirds bridesmaid dresses on Shopbop now.
Shop our guide to the best strapless wedding dresses, white wedding shoes, and inexpensive wedding dresses.