Bridesmaids on a budget can now say that they wore Vera Wang, too, with news that the designer is adding 7 bridesmaid dress styles and 4 shoes to her White collection for David's Bridal.
The new lines hit in late June, and according to WWD, includes a palette of orchid, amethyst, charcoal and champagne, prices start at $158. David's Bridal keeps their product shots top-secret until pretty close to the launch dates, so check back in with us next month for the first photos.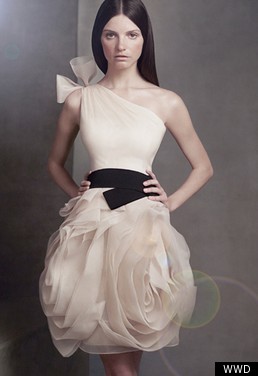 We do have one photo: this one-shoulder, belted bubble skirt dress with oversize rosettes. Other highlights include a sleeveless chiffon column dress with swag skirt – perfect for a fashion-forward bride.
Can't wait until June? Shop strapless wedding dresses, white wedding shoes, and inexpensive wedding dresses.