In a bizarre twist of marketing, Bieber fever is spreading–to your nearest nail salon. The 16 year old pop sensation has teamed up with Nicole by OPI and created a line of polish called One Less Lonely Girl (after his hit song). Embrace your inner tween and rock Step 2 the Beat of My Heart – a heart shaped, glitter polish (above). If nail glitter isn't your style, you can test drive his metallic blue colors, ruby red and shades of rock star purple.
The line will include six polishes, exclusively sold at Walmart, starting in December and in February 2011, you'll be able to shop an expanded line of Bieber polish at Target and Ulta.
If you can't wait until December to start wearing your Bieber inspired manicure, try the following bold shades.
This Deborah Lippman set in All That Jazz ($40) will give you that celebrity sparkle, perfect for "blah" days.
This Tarina Tarantino Nail Lacquer in SuperNova ($12) adds a serious punch to all of your neutral outfits. Whoa!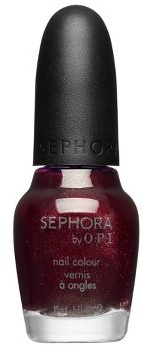 Sephora by OPI in What's Your Point-setta ($9) is a good way to get the festive look going for the holidays.
For more, check out our guides to the best bath products, lip balms and teeth whiteners. Subscribe to SHEFinds.com for exclusive fashion updates, too, and check out all of the best sales and deals from our calendar of online sample sales.