Kanye West Calls Zappos 'Sh-t,' They Respond With A Picture Of A Toilet.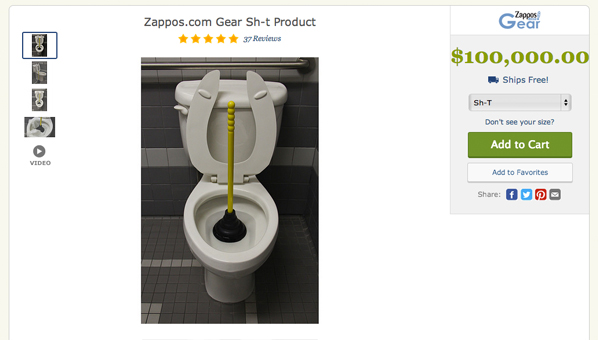 Kanye, we'll let you finish, but Zappos just had the best comeback of all time. Yesterday, Yeezus was interviewed by Bret Easton Ellis and he obvi went on a rant about something. Who was his target this time? Zappos and its CEO Tony Hsieh. Kanye said Hsieh told him to focus on music instead of fashion. You don't tell that to the man who started the leather jogging pants trend! Kanye's response: "meanwhile, he sells all this shit product to everybody, his whole thing is based off of selling shit product." Really Ye, the best word you can come up with to describe shoes is "shit"? We thought you were a rap god or something…
But the best part about all of this is the response from Zappos. The retailer posted a Sh-t Product ($100,000). A toilet mid-plunge that is actually for sale (we hope). The description of the product straight from Zappos: "Interested in buying sh-t product? You've come to the right place! Here at Zappos.com, we happily sell sh-t products to everybody! This is the throne, everyone has been watching. Whether you're #1 or #2, your clique will show no mercy, even in Paris."
Zappos for the win.
And more news going on this morning:
British designers Meadham Kirchhoff teamed up with Topshop on an 80+ piece collex. [Topshop]
Rebecca Taylor is launching her first-ever eveningwear collection. #finally. [Vogue UK]
Katy Perry has a new music video and she's not wearing a cupcake bra or blue wig. [Fashionista]
The Beckhams are donating 20 boxes of clothes to the British Red Cross Shop Drop to raise money for the Philippines. [Grazia]
Bornfree is collaborating with 23 female designers to launch a collection on Shopbop that will help raise money to fight HIV. [WWD]
Do you agree? Should one of these guys been named "Sexiest Man Alive". [The Cut]
Don't forget to sign up for our newsletter!