We've seen Kate Middleton out and about since Prince George was born, but today the Duchess made her first public post-baby appearance all by herself. She attended an event at the Olympic Park in an all navy look that we've seen before…at the Olympic Park. Kate wore almost the exact same outfit back in 2012 to the Olympic games in London. Except this time around, she actually got in on the action and played some volleyball in 4 inch heels. Must be her athletic look.
Don't you just love when the royals do normal people things? Like wearing the same outfit more than once? Well, you can have even more in common with Kate by shopping her look! We found her J Brand jeans, Smythe blazer and very similar Russell & Bromley wedges, so you can look just as good next time you decide to do something sporty. Check out what she wore below:
J Brand 811 Mid-Rise Skinny Leg ($169)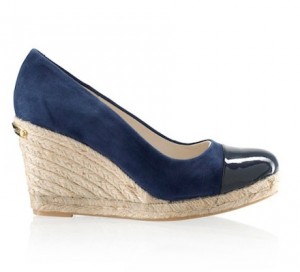 COCO-POP Toe-Cap Rope Wedge ($202)
Smythe Flat Lapel Blazer ($595)
And don't forget next Wednesday, October 23rd is Prince George's christening! You know we'll be stalking what Kate wears, because that's more important than the ceremony, obvi.
For more news, check out: Gwen Stefani confirms her third pregnancy, TOMS launches boots and Kate Spade's Friends and Family sale