While '90s fashion is slowly creeping back in style, including returning back to the covers of magazines, Kate Moss's appeal has only grown over the years–she's designed for Topshop, made bags for Longchamp, posed for countless high-end ads, survived a drug scandal, and even made gray hair cool.
Kate Moss looks bright on the cover of Harper's Bazaar this month, (a lot better than Miley Cyrus did) but we think the photo is a little too close–her hair almost looks like a backdrop. It's the inside photos that are far more interesting.  Just in time for Valentine's Day, she posed in sexy black lingerie, and shows women everywhere they too can be sexy–even while holding eyeliner in their mouths.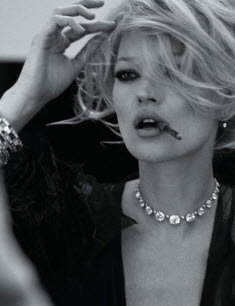 The shoot, while pretty, is not exactly groundbreaking. While one of the shots shows Kate sitting on a bed with two men, the real menage trois seems to be with her predecessors, Bridget Bardot and Marilyn Monroe, as the shot above has been re-done  done for years–and years, by some other familiar blonde, cat-eyed bombshells.
Here's a sneak peek of one of the photos from the Harper's Bazaar shoot with Kate Moss in a retro styled black teddy. Clearly, the look never goes out of style:
If you want to channel the look, we've got a few ideas:
The Cosabella Teddy shaper not only gives off a retro vibe, it can actually be worn under your regular clothes to slim down your figure.
Or go lacy in this low-cut sheer robe from Cosabella.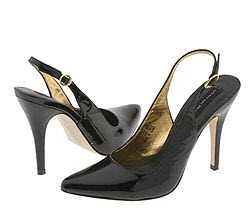 And a great pair of pumps that rival Kate's couldn't hurt, either.
Don't forget the eyeliner! We've got your covered in our guide to achieving super sexy cat eyes, and the best mascara to pump up your look. Get sleepwear seen on Oprah, and see some almost-cheesyValentine's Day lingerie we wouldn't mind getting.