We love how Katie Holmes embraces high street labels. There's been a few times where we found her exact clothing choices from cool fashion lines like Madewell or Current/Elliott. Now, she turns to the signature blue box label for her next look. Holmes's Gap Ikat Braided Cami ($49.95) is the perfect choice for a staple summer top, and we love how she colorblocked her outfit by pairing the cami tank with a bright purple maxi skirt and adorable espadrille shoes. Her exact green top is running low in sizes, but luckily this printed piece comes in blue and pink.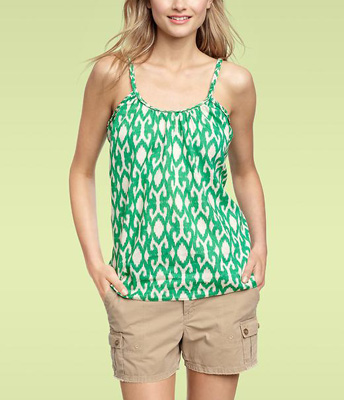 Gap Ikat Braided Cami ($49.95)
Shop more celebrity style finds: Kelly Ripa's shorts, Minka Kelly's skirt, and Jennifer Lawrence/Lopez's dress.