SHEfinds receives commissions for purchases made through the links in this post.
Neiman Marcus is partnering up with Kendall and Kylie Jenner for an exclusive collection of their growing line, Kendall + Kylie. The entire collection is currently available for pre-sale and it will be available in stores on April 7. This Kendall + Kylie line is included in Neiman Marcus' #OnlyatNM program, which was developed last fall to feature exclusive merchandise.
The exclusive collection is an "elevated extension" of the Kendall + Kyle spring collection. It's inspired by vintage items and their current closet favorites. Kendall and Kylie Jenner created nine pieces in hopes to bring customers (and fans) closer to their "aesthetic, taste profile and personal style." The line features quality fabrics and expert tailoring.
"When we started working on our spring ready-to-wear line, we knew we had to do exclusive looks for the Neiman Marcus shopper," said Kylie. "We paid a lot of attention to the fabrics and silhouettes."
Kendall and Kylie were part of the entire process, from selecting fabrics and colors to styling fit models. They each took inspirations from their own closets to create a line completely true to their style and personalities.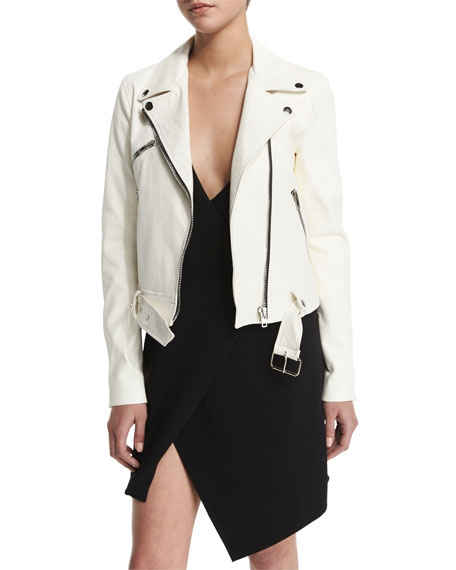 Belted Zip-Front Leather Jacket ($995)
Sleeveless V-Neck Split-Hem Dress ($495)
"The collection is sophisticated, clean and beautifully tailored," said Kendall. "We wanted to widen our range of customers by introducing a more premium clothing line. We incorporated a lot of sophisticated and versatile pieces that were simple yet chic."
"Neiman Marcus is delighted that Kendall and Kylie created exclusive pieces for our #OnlyatNM program," said Neiman Marcus Senior Vice President, GMM, Lisa Kazor. "The sophisticated, feminine designs will appeal to a great range of our customers."
Shop the entire collection here.
Don't miss Beyoncé's new athleisure line and Kim Kardashian's latest naked selfie!
[Photo: Easton Schirra]