Growing up, all I wanted was straight hair. I envied my straight-haired best friend, cherished my flat iron that I got as my 8th-grade birthday present, and yearned for silky, smooth hair. In reality, my hair wasn't that bad curly, I just never learned to properly manage it. I was that girl at the 7th-grade parties, with my hair "straightened" by my mom… really meaning that she attempted to blow dry and flat iron my curly hair, turning it into a poofy, frizzy mess. So when people started talking about Keratin treatments, I was the first one to sign up.
After sitting in the chair for two hours and not washing my hair for three days (yeah, back then it was three days!), I was able to walk out of the house with wet hair and not have to worry about how it dried! I didn't have to think about blow dryers, flat irons, gels, or sprays. My life changed, and I suddenly had one less thing to think about. Getting Keratin gave me straighter hair that still has some curls, but was easy to manage. 
Keratin treatments have changed a little over the years, so now I get the 1-day treatment. The procedure really isn't bad: my hair gets clarified, roughly dried, Keratin formula applied, and then blow dried and flat ironed. I get to wash my hair just 24 hours later – so no more greasy hair!
I love the fact that after I get the treatment, my hair becomes that much easier to work with. Instead of fussing with it in the morning before work or classes, I have some extra time. And when I'm going out with friends, it only takes me, like, 20 minutes to do my hair (compared to the hour that it used to!). It's amazing how much weight, time, and pressure is lifted off of my shoulders by not having to deal with my hair all. the. time.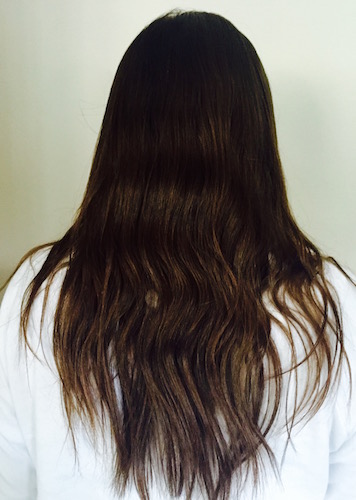 This is what my hair looked like a few days after getting the treatment done. It's still a little too straight, but definitely softer and more manageable!
I only get the treatment about twice a year because more than that, it's not that healthy for you. But this beauty revolution has definitely changed my hair, and my overall beauty routine! If you've ever considered getting it, I would highly recommend looking into getting Keratin.
Make sure to check out If Ponytails Are Really Bad For Your Hair and The One Thing You Should Never Do When Blow Drying Your Hair
[Photo: Shutterstock]