Kim Kardashian at the Oscars; Vera Wang's 2010 Fall Bridal collection.
Kathie Lee Gifford is the source for this story, so it comes with a caveat: if we're wrong, we blame Wine Wednesday (her Today show gimmick). That said, Kathie is a guest at Kim Kardashian's Santa Barbara-mansion wedding this weekend (details on the venue after the jump), and is letting a few key details of out:

Kathie says that guests have been told to wear black or white only — no exceptions. With the guests wearing white, many people, including the Huffington Post are assuming that Kim herself is not wearing the shade, "There is no way she would let herself blend in with everyone else at her wedding by wearing a white dress," an insider told them. "If I know her, I bet she will wear red or some color so she pops against everyone else who will be in black or white."
Well, let's hope she's not wearing red, because, according to sister Kourtney, the bridesmaids are wearing green, and that would just make for a Christmas Kristmas-themed mess. We think it's safer to assume that she's wearing an off-white (cream, blush or ivory) gown, or one of Vera's signature colorful wedding dresses (think pale pink or lavender). It is her second wedding, afterall! If you love Kim, we have top picks of both: shop colorful wedding dress and blush wedding dresses here.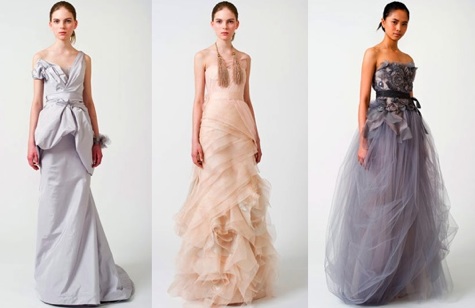 This is how Vera does color.
Another detail is out today, reporters who seem to be misusing their network choppers have spotted a $20-million mansion in Santa Barbara that is erecting some wedding-like edifices, including a stage for the vows (how tacky) and some privacy barriers:
Shop our guides to the best strapless wedding dresses, white wedding shoes, and inexpensive wedding dresses.