Kim Kardashian showed off her growing, um, assets while flying from New York to France yesterday. The reality star and expectant mom (she's officially having a boy!) wore a nude, low-cut bodysuit with high-waist black pants and tan trench coat. Kim's cleavage was on full display as she walked through the airport and we even caught a glimpse of her growing baby bump: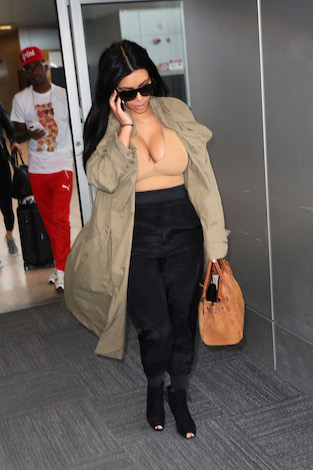 I'm excited to see what kinds of fashion choices Kim will make during this pregnancy, considering she got so much unnecessary flak throughout her last one.
Don't miss 14 pregnant celebrities who look gorgeous in bikinis and 8 celebrities with normal bodies who have awesome fashion sense!
[Photos: Splash News]