Imagine if you could text, make calls, Tweet, update your status and snap a picture without ever having to take your phone out of your bag. Your phone would never get lost, broken, or stolen and you would be able to carry more stuff because your hands would be free. Well, your dreams just became a reality.
KOTUR's new #Getsmartbag Minaudiere ($395-795) secures your iPhone 5 or 5s in a protective case and allows you to use your phone without removing it. It can also hold all of your "going-out" essentials, like lipstick and credit cards, and has an optional crossbody chain and magnetic closure. Basically, this bag is a wallet, phone case, and purse all in one. The #Getsmartbag comes in a variety of patterns and colors, from gold embossed authentic croc and snakeskin (which is illegal in some countries) to teal with Swarovski crystals. You definitely NEED this for your next girl's night out.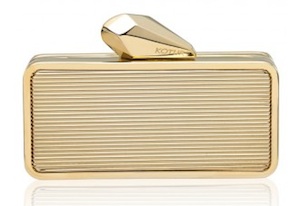 Getsmartbag Embossed Stripe ($395)
For more techy stuff, check out: iBag, the silver Nike Fuelband, and the beginner's guide to Tinder.