Kourtney Kardashian finally pulled the plug on her relationship with Scott Disick. The two have been dating since 2006 and have three kids together, but Kourtney has had enough of Scott's ongoing behavior.
According to Us Weekly and E! Online reports, Kourtney has most definitely split from Scott. Sources say, "Scott has been running around saying he's single. Kourtney dumped him after she saw the pics in Monte Carlo and he hasn't been home after a month-long party binge." Another source adds "Kourtney has to be what's best for the kids."
Kourtney celebrated her Independence Day, well, as an independent woman. She posted pictures to her Instagram account celebrating the holiday with her kids while Scott was off canoodling with ex-girlfriend Chloe Bartoli in Monaco.
An onlooker in Monaco told US Weekly, "There was no trying to hide how handsy they were. They were all over each other and so blatant. They were feeding each other with their own forks. She was nuzzling her head on his shoulder, and he was stroking her arm and thighs."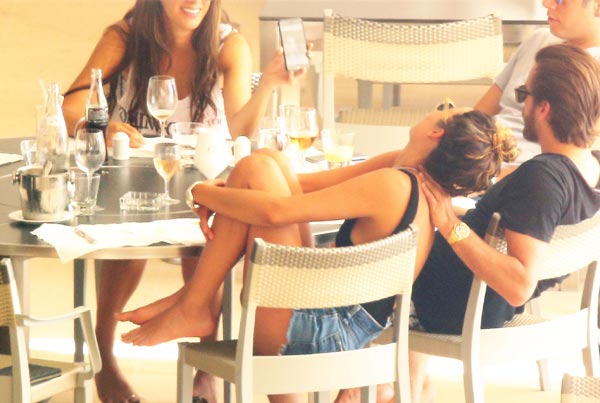 "This was an escape for him, a way out. Kourtney is flipping out and going crazy and says she's done with him, but they've been through this before. He just hasn't publicly embarrassed her like this and to this level," the source adds.
I have a feeling these two will get back together…they always do.
UPDATE: 
Reports have also come out saying Scott was pictured with another brunette woman at the Trump SoHo. The pictures were taken in a drug-filled hotel room and a fellow partygoer says Scott was "really interested" in the mystery woman.
Since the news of Kourtney and Scott's split, Khloé sent out a cryptic tweet that we can assume is toward her big sis.
Everyone has their own journey to the pursuit of happiness.

— Khloé (@khloekardashian) July 7, 2015
Don't miss the U.S. Women's National Team epic World Cup win and see all of Kim Kardashian's see-through outfits!
[Photos: Splash News]