Dying To Own A Printed Mara Hoffman Bikini Like Kourtney Kardashian's? Get In Line.
Mara Hoffman is currently having a major fashion moment. Tons of celebs are wearing her designs, but more important, we want every single thing from the spring/summer collection. The prints are so bold and colorful, they just exude happiness–and lord knows we need that to get through these rainy spring days.
Our current Mara Hoffman obsession? This Mara Hoffman Pink Rays String Bikini ($180) we spotted Kourtney Kardashian wearing during her recent birthday trip in Mexico. It's colorful, it's sexy and not crazy expensive–what's not to love? Score Kourt's exact bikini below.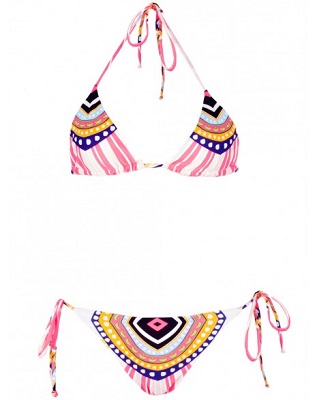 Mara Hoffman Pink Rays String Bikini ($180)
Can't find your size at Les Nouvelles? Try here!
Be sure to check out Reese Witherspoon's favorite denim jacket, Ashley Green's eyelet dress and Taylor Swift's red sunglasses.
Photo: Splash News