While many of you are shopping the latest printastic Mara Hoffman bikinis (or other itty bitty fabulous string things), you should also be shopping for great (and forgiving) tunics. Like this one Kourtney Kardashian wore, the Tolani Talia Tunic in Black ($152). She paired hers with grey denim, but tunic options are endless. Post-BBQ food baby? Strolling around on a windy beach? Lunching by the dock? Should we continue or have we convinced you that tunics should be at the top of your shopping list? Shop Kourt's below!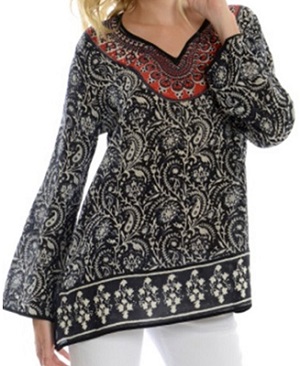 Tolani Talia Tunic in Black ($152)
Need, want, have to have more celeb style?! Check out Kate Middleton's white dress (1 size left!), Kourtney Kardashian striped jeans, Lea Michele floral blazer, and Gwen Stefani yellow loafers.
[Photo: Splash News]