Take A Cue From Kristin Cavallari & Embrace Spring's Hippie Trend In An Off-The-Shoulder Top
Nothing is sexier than a woman's décolletage which is why Kristin Cavallari's Stone Cold Fox Nate Blouse ($215) had us swooning all over Instagram. The young mom looked stunningly chic in her post featuring this gorgeous blouse and some serious bell bottoms. The 70s are back in the best way possible (see: every fashion ad this spring), so shop the flowy blouse below and feel sexy wherever you go.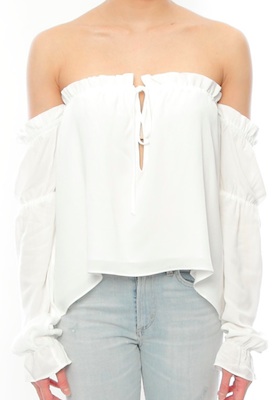 Stone Cold Fox Nate Blouse ($215)
Shop more celebrity style like Jamie Chung's oxfords, Jessica Alba's sandals and Jessica Biel's moto jacket.
 [Photo: Splash News]