Kylie Jenner's Secret To Perfect Skin Costs Less Than $20
Although she may look *flawless* in pictures, Kylie Jenner suffers from an occasional pimple. She's just like us! Kind of…not really. Anyway, her secret to combating pimples is in one little bottle. Kylie swears by the Mario Badescu Drying Lotion ($17).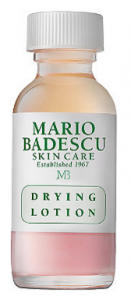 Mario Badescu Drying Lotion ($17)
In a Snapchat video Kylie says, "If any of you have a pimple, this is some drying lotion that I love." She warns to not shake the bottle and simply "get down deep in there" to get the solution. Check out Kylie in action below!
Don't miss 10 at-home remedies pimples and shop Kendall Jenner's eyeshadow palette!
[Photo: Instagram]