Halloween is all about dressing up as your favorite character or celebrity, so if you're a Frozen fanatic (and who isn't?), then this costume is for you. Queen Elsa is beautiful, but she also has a mean, scary side. So you can be a pretty princess, and still be a villain. Elsa is really the best of both worlds. We found the perfect wig, dress and glitter pumps to transform you into the ice queen with ease. Now, all you need is the power to control the weather and turn things to ice (Do you know where we can find that? It's been a little hot laterly.), and find a significant other to dress up as Kristoff for the perfect couples costume. Better yet, get a group and roll up to the Halloween parties as the whole Frozen gang. Anna, Olaf and Sven included. Shouldn't be too hard to get a bunch of adults to do this, right?
And here's a clip from the movie for your listening pleasure. At 3:10 Elsa transforms into the ice queen that you'll be dressed as this Halloween.
[youtube]https://www.youtube.com/watch?v=moSFlvxnbgk[/youtube]
Elsa Adult Princess Salon Quality Costume Wig ($17.99)
Frozen Elsa Adult Womens Costume ($49.99)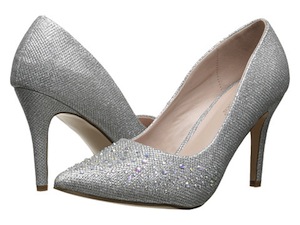 Coloriffics Jane ($69)
And for those of you who aren't satisfied with the sweet, innocent Frozen costume, a company called Yandy is now selling a "sexy Halloween costume," according to E! news:
Photo: Yandy via E! News.
Get the Funny Snowman Costume($36.95) which is basically just a white bodysuit, or the Blue Snow Maiden ($99.95) which features a hi-lo hemline and a blonde braided wig. The Ice Girl costume ($99.95) features mesh sleeves a high front slit, and the Norwegian Maiden costume ($85.95) is the most modest of the bunch–although the fishnet stockings are sold separately.
For more Halloween costumes idea, check out: Taylor Swift at the VMA's, North West and Abby Lee Miller.