From black and white to printed pants sets, we're so stoked about all the amazing upcoming trends. And with just a few more days until the official start of spring, we know you're probably looking to start updating your closet. But what's a girl to do with all these spring trends that aren't so easy to style (knee-high gladiator sandals, anyone)? Ask an expert, obvi!
So that's just what we did. You may know Anya Sarre as the Head Fashion Stylist for Entertainment Tonight and The Insider, but she's also responsible for tons of A-list red carpet looks every awards season. In other words, she's the perfect resource for tackling the season's hardest to wear trends.
First up, we had Anya take on the pajama shirt. We absolutely adore the easy-going look, but how do you wear it without actually looking like you just rolled out of bed? According to Anya, the key to pulling off the pajama look is to either totally dress it up or totally dress it down. "Embrace it and go super casual with cuffed jeans and a fun, bright sneaker."
Following Anya's expert advice, check out this outfit that is stylish and comfortable enough for weekend errands. And we promise, you won't end up on People of Wal-Mart. Shop the entire look below.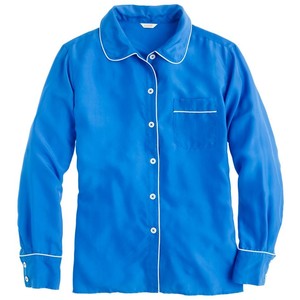 J.Crew Collection silk pajama shirt ($100, down from $128)
J Brand 1214 Aidan Boyfriend Jeans ($380)
Juicy Couture Leni Charm Convertible Leather Crossbody ($160, down from $228)
House of Holland Superga 2750 Leopard Spot Trainers ($83)
Check back on Wednesday to see how Anya styles this season's hip slit skirts.
Learn how to wear more spring trends, like trouser pants, monochromatic outfits and tulle skirts.