Okay, so Father's Day (this Sunday, folks) came before you could get a gift. No worries – we found some sweet gift card you can email to Dad with the click of the mouse. Don't forget to at least personalize the note, though. Here are our top picks:
Whether dad is a white or red kind of guy, get him the gift of free booze with a MyWinesDirect.com eGift Card.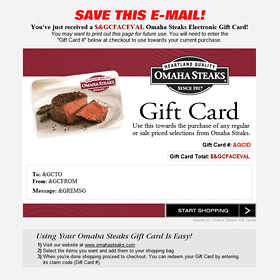 In college, dad was the one treating you to steaks – pay him back with an Omaha Steaks E-Gift Card. Then invite yourself over for dinner.
Let dad choose his own striped tie this year with a Bloomingdales eGift Card. I know you'd rather be his personal shopper (goodbye, argyle knee socks), but the man knows what he wants.
Send some reading materials his way (whether it's Field & Stream or Men's Health) with an eGift Card on Magazines.com.
Not shopping for dad? Treat yourself to some of this summers' best trends – from rompers, clogs, summer dresses to cheap swimwear.