If you were hoping that printed pants were on their way out, no such luck. Not only is printed denim here to stay, but designers are going a step further with printed pant sets and printed pajama-style pants. Time to stop holding out and jump on the bandwagon.
And who better to give you the easiest, no-fail outfit inspiration that Polish supermodel Anja Rubik. She recently stepped out in her home country sporting a wild pair of Balmain Printed Skinny Jeans ($2,454) and she makes them look effortless. The key? That chambray shirt. It tones down the craziness of the pants and pulls the whole look together.
Obviously, the Balmain pants are the statement-makers of the outfit so splurge on a pair for yourself below.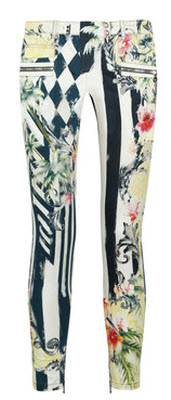 Balmain Printed Skinny Jeans ($2,454)
[Photo Credit: Splash News]
Don't forget to check out other celebrity style trends such as Jessica Alba's houndstooth jeans, Solange's floral power suit, and Taylor Swift's briefcase bag,