It wouldn't be a tracksuit without "Juicy" written on the butt. Singer Kelly Rowland wore this cranberry getup in NYC for a rehearsal. We still don't approve.
Remember singer Jewel? Here she is in a tan Juicy tracksuit is so mid-2000s. Of all colors, tan? Really?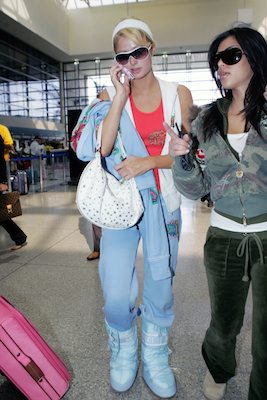 Remember when Kim Kardashian was just Paris Hilton's sidekick? The duo was spotted coming home from a weekend in Vegas when the paps snapped this picture featuring the worst of the 2000s: Paris, Juicy, and moon boots. #triplewhammy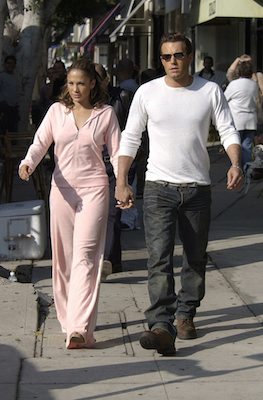 One word: Bennifer (the original). Jennifer Lopez was shooting a music video when ex-hubby Ben Affleck decided to visit. J.Lo, who was kicked back in a baby pink tracksuit. Too classic.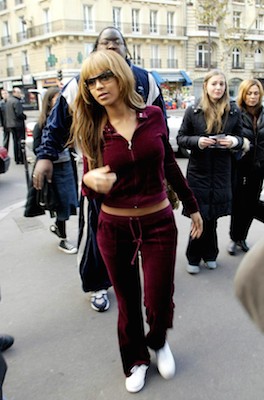 Oh, Beyonce! Even Queen B succumbed to the Juicy fad. Here she is sporting a Juicy tracksuit in Paris. But don't overlook those sunglasses she's wearing...
Running out to get a coffee in Malibu, Britney Spears wore a baby pink tracksuit. Meh.
Even outfit-crazy Katy Perry went along with the tracksuit trend. She chose the classic hot pink onw, and looks pretty normal. Weird for Katy...
Okay this could be the grossest purple we've ever seen. Eva Longoria what were you thinking! And the hat! Just no.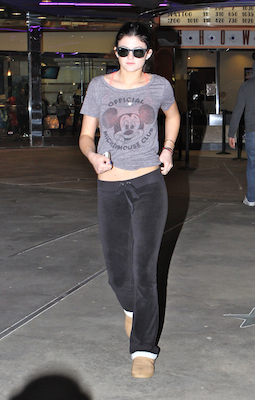 Those Kardashians really love Juicy tracksuits! Though not in the full get up, Kylie Jenner wore the terry-cloth sweatpants in the airport. Cute Mickey Mouse tee...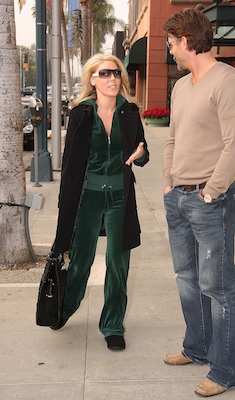 Real Housewives of Orange County star Gretchen Rossi spotted in a dark green tracksuit. Honestly, it's the best color out of this bunch.