When you're a celebrity attending a non-celebrity's wedding, it's hard to make the event not about your existence/presence there. It's a fine line that Jennifer Lawrence tread at her older brother Blaine's nuptials, which were photographed for Martha Stewart's Real Weddings magazine. Forget that the bride, Carson Massler, looked so gorgeous in her gown on that day, or that she and Blaine professed their love for one another in front of 325 guests and Martha Stewart's camera crew. What are folks really interested in? The fact that J.Law was a bridesmaid…aaaand that she was wearing J.Crew.
The Academy Award-winning actress and ten (!) other gals got gussied up in three versions of peachy gowns form the retailer, with Jenn rocking their Arabelle Long Dress ($365). This can mean one of two things:
1. Bridesmaids across America will be wearing J.Crew dresses all this summer.
2. Bridesmaids across America were wearing J.Crew dresses all along, and now we only care because J.Law's wearing one.
ummmmm… we're gonna go with option #2.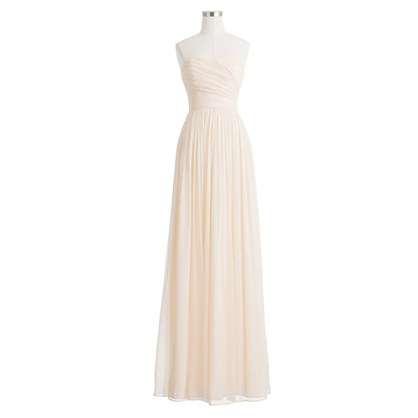 Arabelle Long Dress ($365)
Don't forget to check out: Shay Mitchell's 'Sorry Not Sorry' necklace, 16 cool places to organize and display your shoes, and where to get a printed jacket for spring.
[Photo Credit: Martha Stewart Weddings]