Lily Allen recently revealed to ELLE that she's opening a vintage store – with the Beatles-inspired name "Lucy in Disguise" – and that she plans to stock the shop with pieces from her own closet. Seeing as the singer is the spokesmodel for the Coco Cocoon Chanel bag, we're guessing this is a closet worth raiding. We call first dibs on the Chanel bags!
We hope your passport is updated, because the store, which opens in September, will be located in London. In the meantime, (and if you're not clocking frequent flier miles) shop our vintage inspired finds from ModCloth:
Lily is a huge fan of black quilted purses with chain straps like this Action Packed purse in black ($37.99).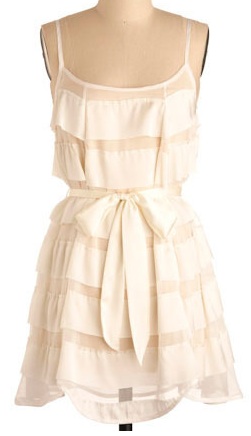 How sweet is this Cake From Scratch dress ($73.99)? Wear it with flats and a long gold pendant for the perfect girly, weekend look.
You will flip for these two-toned Pinky and the Grey heels ($39.99); the pop of pink makes them super feminine, but the grey is versatile and practical.
Get two pendants in one with this pretty My Heart Will Bow On necklace ($15.99); its delicate enough to be an everyday piece, but one-of-a-kind enough to make a statement.
Craving more celebrity style? Check out our favorite summer dresses, flat sandals, blazers, cool sneakers, cheap underwear and skinny jeans.