Remember Alyssa Milano? Rack your brains and think Charmed, maybe even Who's The Boss depending on how old you are. Anyways, she recently caused a stir on Twitter–no, not for a 'leaked' sex tape–but for stirring up her old cast mates for a movie version of Charmed. Sure, that sounds great, but you know what's better? The Vince Camuto Kevia Booties ($138) she was recently seen wearing to a radio interview. Truth be told, we never really though of Alyssa as a trendsetting, but you have to give her props. Between the blue leather skirt and the green leather booties, she is mixing that colored leather like a professional.
Love the booties? Shop below!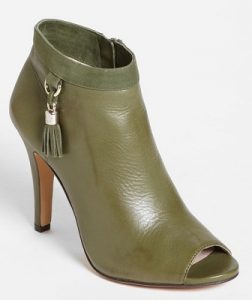 Vince Camuto Kevia Bootie ($138)
Don't miss out on more great style finds like Olivia Palermo's neutral jacket, Rihanna's sexy black bikini, Jessica Alba's jeans and Reese Witherspoon's quilted jacket.
[Photo: Splash News]