Look—maybe I'm just missing the point on this one. These wedge over-the-knee boots, recently spotted on Jessica Chastain, have been a favorite of some of the best-dressed ladies in Tinseltown. And if people like Beyonce and Kim Kardashian have given their stamp of approval to the Givenchy Leather wedge knee boots ($1,695), who am I to argue with that. However, there is something about this style that I just can't get on board with. Setting aside the steep price tag, the all-the-way-to-the-floor cuff is a little unflattering and horse-like. Riding boots are for making you look like an equestrian, not for turning you into the pony itself.
That being said—do you agree on these boots? Maybe you're more on Jessica's page and love 'em. If so, check them out below.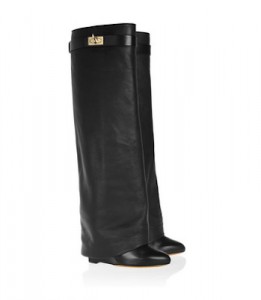 Givenchy Leather wedge knee boots ($1,695)
Looking for other boot options? Shop our gallery of riding boots, our picks for tall black boots and play our taste test to see if you can tell the difference between Frye boots and knockoffs.
And don't forget to sound off in the comments below on your take of this hoof boot trend.