If you got a wedding invitation that says, "White Tie" the bride and groom aren't kidding around. White tie is even more formal than black tie, so you need to bring your game face. Unlike black tie where cocktail dresses are acceptable, you need to find a floor length gown, faux diamond jewelry and some black strappy heels. Then you can make a beeline to the champagne server.
Stick with solid, dark colors for your white tie gown; we love this J S BOUTIQUE Flower-Detail One-Shoulder gown ($178). The one shoulder is current, but the floor length style is classic.
Rather than a faux diamond necklace, which is hard to nail, get your bling fix with these gorgeous Kate Spade Glass Stone Stud earrings ($42.00). You will love the shape and detail of this pretty pair.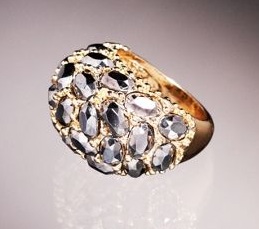 Have some fun with an oversize gold and stone cocktail ring; this Stone Dome ring ($26.90) only looks like it costs a fortune.
No flip flops or wedges here; it's time to buy a pair of sexy, strappy black heels if you don't have any in your closet. These Chinese Laundry Weekend Satin sandals ($49.95) are perfect for the occasion.
Shopping for everyday life, in addition to all those friggin' weddings? Check out the best black dresses, evening bags, and best sunglasses, and what to wear to a beach wedding.